Personal Loan Lenders To Consider If Your Credit Score Is 580 or Less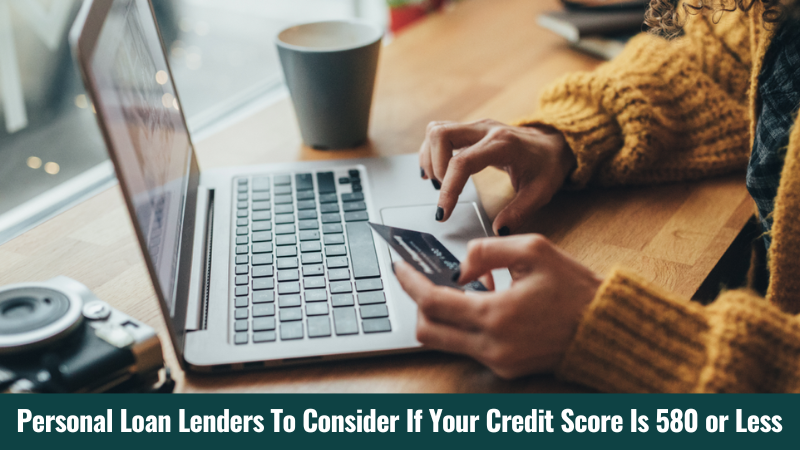 Banks, microfinance institutions and credit unions are not required to explain to customers why a loan was denied. But you can often hear from managers: "You have bad credit." This may confuse a person…
Maybe you never took loans from this institution, but everyone knows about you. Or you received loans, did not make payments on time, and it came to this. The financial mistakes of the past are not a sentence. We will tell you together with financial experts how to get a loan with a credit score of 580 or less in 2023 in our step-by-step guide.
Table of Contents:
What Are the Different Ranges of Credit Scores?
Credit scores are calculated by special agencies, based on the amount of your credit limits, timely / missed payments. You can check your credit score on special websites (for example, you can create a myEquifax account to get six free Equifax credit reports each year), but they only give an approximate result.
Even when you just arrived in the United States, your credit score is not zero. The minimum score is 300.
Credit score ranges are as follows:
A score of 720 or higher is considered excellent credit.
A score between 690 and 719 is considered good credit.
A score between 630 and 689 is considered fair credit.
A score of 629 or below is considered poor credit.
This means that a 580 credit score is considered bad credit.
In addition to the credit score, there are several other important indicators of reliability:
"Age" of credit history. As a rule, banks are reluctant to work with those whose credit history is less than 5 years old. The system implies the gradual building of a good history, so a history of at least 8 years is considered ideal. It is believed that during this time a person accurately shows his or her responsible or vice versa, careless attitude to money.
Number of credit lines (accounts). The more correctly repaid loans you have (absolutely everything is taken into account, even transactions that did not go through banks – rent, installments, whatever), the better. The ideal is about 15-20 lines of credit over 5-8 years of credit history.
Where to Get a Loan if Your Credit Score is 580 or Less: Top 5 Online Lenders
Best for People Without Credit History: Upgrade
Upgrade is an online lending platform that helps borrowers access loan products quickly. The company was founded in 2016. They offer personal loans, lines of credit, online education tools, and free credit monitoring.
Their goal is to help people get affordable loans and make smart financial decisions. In addition to free credit monitoring, you can receive individual loan recommendations based on your credit history.
If you're searching for a way to consolidate your debt, pay back credit cards, or make a large purchase, you might consider applying for a personal loan from this lender.
Upgrade personal loans can range between $1,000 and $50,000 at affordable fixed rates. These loans are unsecured, so you don't have to provide any collateral.
The company provides flexible repayment terms and will even allow you to change your payment schedule to fit with your monthly budget. To secure the lowest rates, you can opt for autopay.
These loans can be used for various expenses, from home improvement and wedding expenses to debt consolidation to home improvement.
Upgrade is a suitable lender for fair credit and bad credit borrowers. Their loans are available in most states, including but not limited to Georgia, Alabama, California, Colorado, Delaware, Kansas, Maryland, North Carolina, and Tennessee.
About the lender:
Annual Percentage Rate (APR): 7.96% – 35.97%
Loan purpose: debt consolidation, credit card refinancing, home improvements, large purchases
Loan amounts: $1,000 – $50,000
Terms: 24 – 84 months
Credit needed: 580
Origination fee: 1.85% – 8.99%
Early payoff penalty: $0
Late fee: up to $10
Pros:
Available in most states
The loan application process is easy
Soft pull on your credit.
Funding as soon as the next business day.
Personalized loan recommendations
Free credit health tools: free credit monitoring, educational articles and resources
Cons:
Loans aren't available in West Virginia or Washington D.C.
If you have excellent credit, you may be able to receive a lower rate from other lenders.
Best for Quick Funding: Georgia SSBCI Loans
Georgia SSBCI Loans is an online platform that works by matching potential borrowers with the right lenders from their extensive network. The company cooperates only with reliable and experienced lenders that issue loans all across the United States except for Arkansas, West Virginia, New York, and Vermont.
This online platform can be used to submit an application online. The reputable lenders from the network will assess your request within a few minutes and make a decision. If approved, the money will be transferred to your bank account as soon as the same day. You are not required to fax any documents.
Online loans georgia-ssbci.org are the fastest and easiest way to borrow $1000 with bad credit in Georgia. This service was invented by online microfinance institutions. You can fill out a short application form on our website and get a $1000 loan around the clock even if you have bad credit.
The company offers both payday and installment loans. These are very popular different products, and you may choose the best option for your individual needs.
Installment loans are paid back over a specific time period with fixed monthly payments. They come with lower interest rates and provide access to larger credit limits.
Payday loans are short-term loans that you pay back with your next paycheck – usually within 2-3 weeks. It's a great option if you need up to $1,000 for emergency needs. Such loans usually come with instant approvals and can be funded as soon as the same day.
Typically, to get approved for a loan, you need to have a government-issued ID and a stable income (any source). At the same time, you should understand that payday loans from Georgia SSBCI Loans may come with higher interest rates if you have poor credit.
Online lenders from the network offer high approval rates and a simple application process. The whole process, from filling out a form to getting the money, typically takes a few hours. You can even expect to receive your $1000 dollar loan money in 60 minutes.
About the lender:
Annual Percentage Rate (APR): 6% to 36%
Loan purpose: debt consolidation, credit card refinancing, home improvements, wedding, medical expenses, large purchases, etc
Loan amounts: $100 – $2,500
Terms: up to 31 days
Credit needed: None
Origination fee: up to $15
Early payoff penalty: $0
Late fee: up to $15
Pros:
An extensive network of lenders
Small loan amounts available
Online application
High approval rates
No minimum credit score requirement
Funds deposited within 24 business hours, often instantly
No faxing, no paperwork
Relaxed eligibility criteria
Various loan types
Money for whatever purpose
Online customer support
Apply around the clock
Cons:
Small loan limits
Short repayment terms
Not available in Arkansas, West Virginia, New York, Vermont
Best for Home Improvement: OneMain Financial
OneMain Financial has been operating for over 100 years, providing personal loans and auto loans. The company was founded in Maryland in 1912 as Commercial Credit, and in 2015 the company changed its name to OneMain Financial.
The lender has 1,600+ locations in 44 states, except for Alaska, Arkansas, Connecticut, Massachusetts, Rhode Island, and Vermont. They are willing to work with borrowers who have low credit scores and may be rejected elsewhere.
To get an unsecured loan from OneMain Financial, you'll have to complete an online application indicating how much you'd like to borrow, what you need the funds for, and whether you'll apply for the loan on your own or with a co-applicant.
Common reasons for seeking a personal loan from this lender include medical treatment, debt consolidation, debt refinancing, car repairs, credit cards, home improvements, and even vacations.
When applying for OneMain Financial personal loans, you'll be asked to provide basic personal information like your birth date, home address, and Social Security number. In addition, you'll have to provide your employment information, including details about your monthly income. You'll also have to disclose whether you own property and have a personal bank account.
The key downside is that OneMain will not allow you to complete the application process online. If you applied via the internet and are accepted, you'll still have to go to a lender's location to discuss your options and verify your identity.
Unlike some other lenders, this company doesn't have a minimum credit score requirement. They will look at other factors when considering your application, such as your current employment and income. That may be great news for people with credit scores of 580 or less.
The online application only involves a soft credit check, and the initial application steps won't affect your credit score. Soft credit checks don't damage your credit score, so you risk nothing if you apply and are rejected.
OneMain does not hide its loan terms, they are disclosed on its website. Their rates range from 18.00% to 35.99%, depending upon the person's credit history. This includes data such as a potential borrower's income, debts, whether they have collateral, and their credit history.
Although you may still get accepted for a loan if you don't have any collateral, it may help you get a lower interest rate or a larger loan. But if you do not own collateral, you might lose that valuable property if you don't make payments on time. For that reason, you should carefully weigh all pros and cons of adding collateral.
The minimum loan amount starts at $1,500 and reaches $20,000. Repayment durations can be 24, 36, 48, or 60 months.
If you wish to repay your loan early, you can do so by paying extra each month or making a lump sum payment. The lender will not charge you an early payment fee.
About the lender:
Annual Percentage Rate (APR): 18.00% – 35.99%
Loan purpose: Debt consolidation, major expenses, emergency costs
Loan amounts: $1,500 – $20,000
Terms: 24, 36, 48, or 60 months
Credit needed: Poor/Fair
Origination fee: Flat fee starting at $25 to $500 or percentage ranging from 1% to 10%
Early payoff penalty: $0
Late fee: Up to $30 per late payment or up to 15%
Pros:
Has been in business for more than 100 years
Has brick-and-mortar branches
Can pre-qualify with a soft credit check
A decent range of repayment term lengths
Easy application process
Funding in a few days
Applicants may apply with a co-applicant
Bad credit is accepted
Cons:
You can't do everything online
High interest rates
Best for Debt Consolidation: Universal Credit
Universal Credit is a fintech company that's owned by Upgrade. Loans range from $1,000 to $50,000 and are issued by partners Cross River Bank and Blue Ridge Bank.
Interest rates are quite high, but the company is willing to work with borrowers having poor credit scores and high debt-to-income ratios. User reviews are mostly positive, and Universal Credit may be the right option for consumers who would like to consolidate higher-interest debt.
Their personal loans are flexible and can be used to pay off high-interest debt like credit cards, as well as to make large purchases, do home improvement, etc. Keep in mind that the company charges origination fees up to 8% of the borrowed amount.
Universal Credit does not offer personal loans in Iowa, West Virginia or Washington, D.C.
The lender makes a decision based on multiple factors, such as an applicant's credit profile and monthly income. Bear in mind that meeting the lender's requirements below won't guarantee approval.
About the lender:
Annual Percentage Rate: (APR): 11.69-35.93%
Loan purpose: Debt consolidation, home improvement, business, large purchases, paying off credit cards, etc.
Loan amounts: $1,000-$50,000
Terms: 3 to 5 years
Credit needed: 560
Origination fee: 5.25% – 8%
Early payoff penalty: $0
Late fee: $10
Pros:
Low borrowing minimum
Not available in Iowa, West Virginia or Washington, D.C.
Direct payment to creditors with debt consolidation loans.
Multiple rate discounts.
Free credit score access.
Fast funding.
Credit-building tools
Funding within 2 days
Cons:
Origination fee.
Only two repayment term options.
Rates are high compared to some lenders
No joint, co-signed or secured loans
Best for Flexible Terms: Oportun
Oportun is a direct lender based in San Carlos, California, that is ready to work with people who have a credit score of 580 or less.
The company started as Progreso Financiero but later changed its name to Oportun – which is the beginning of the word "opportunity". This lender accepts people regardless of their credit score.
Oportun offers bad credit personal loans, but because of this, interest rates can be higher than 36%. Before signing the agreement, be sure to read all the clauses and understand the total loan cost and repayment schedule.
The company is known for its relaxed credit score requirements. You can get approved even if your credit score ranges between 300 and 700.
To qualify for an Oportun loan, you must be at least 18 years old, live in one of the 12 states they work in (AZ, CA, FL, ID, IL, MO, NV, NJ, NM, SC, TX, UT, WI).
The lender provides its customers with unsecured installment loans that start at $300 and reach $10,000 – but bigger loans are only available to existing customers who have borrowed from this place in the past.
Oportun loans interest rates come with interest rates from 12% to 36% APR depending on your state and your income. In addition, repayment terms range from 6 and 46 months.
Oportun charges late fees and origination fees, but no prepayment penalties.
About the lender:
Annual Percentage Rate (APR): 12% – 36%
Loan purpose: vacations, emergencies, medical expenses, home improvement
Loan amounts: $300 – $10,000
Terms: 6 – 46 months
Credit needed: None
Origination fee: 0% to 7%
Early payoff penalty: $0
Late fee: $5 to $15 or up to 5% of the unpaid amount
Pros:
Accept borrowers with no credit or low credit scores
Low interest rates compared to other bad credit personal loans
Oportun loans may help you build credit
Cons:
Online application not available in all states
Interest rates often over 36%
Mixed customer reviews
What to Do if You Cannot Get a Loan with a Credit Score of 580 or Less
If you get denied for a loan due to bad credit, be aware of other ways to borrow money.
Credit card. The bank may decline you for a loan but approve a credit card. You will be disciplined in paying off debt on it and improve your credit history.
Overdraft. This service is connected to debit cards, that is, ordinary bank cards. Not all banks have an overdraft facility. An overdraft lets you borrow extra money through your current account. Overdrafts, like credit cards, have high interest rates. It must be repaid within a short period of time, usually within a month.
Refinancing of old loans. Sometimes credit history becomes bad not because of late/missed payments, but because a person has too much debt. The financial institution may simply be afraid that the client cannot afford another loan. Then it makes sense to borrow money to refinance loans, close debts in other banks ahead of schedule and continue to repay only one loan.
How Can You Increase Your Credit Score? Ways That Really Work
If you expect to get a large loan or qualify for lower interest rates, then it makes sense to take some steps to boost your credit.
Errors may appear in your credit report due to technical malfunctions in the system. There may be incorrect data about your name or debt repayment. If you find such an error in your credit report, contact the credit bureau immediately with a request to fix the mistake.
If you have too much debt, you need to tighten your belt and pay off open loans. First, you should pay off the large loans, as this is the most difficult. If you took a payday loan from a microfinance institution, pay these loans back first, as they come with higher interest rates. Then pay off your credit card debt, and then pay back the loans in cash. If you have a mortgage, you don't have to try to pay it off.
Increasing your income can also reduce your debt load.
If you have no credit, you can get a small-dollar loan for several weeks or months (or a credit card) and make monthly payments on time. Every major credit card issuer, and the vast majority of smaller ones, give you a grace period, a time during which your credit card issuer does not charge interest on purchases.